This is a guest blog from Ben Hopkin (@actingnodrama), brought back for a second time, because...well...he's awesome!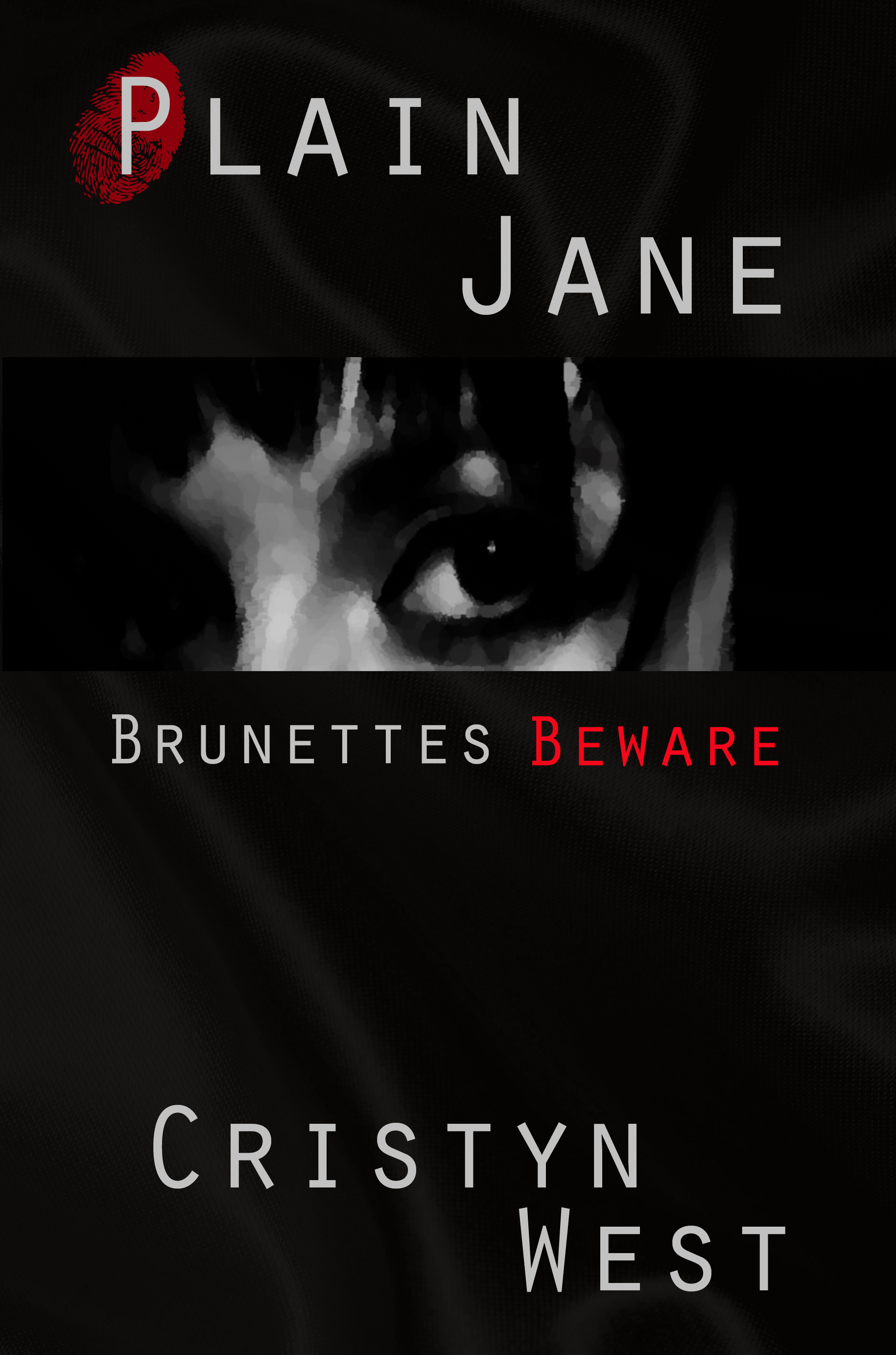 You'll notice I put the writer first in the title. There's a reason for that. Before I talk about how awesome
Plain Jane: Brunettes Beware
is (and wow, it is), I have to talk about the enigma that is Cristyn West. I thought I'd do it now, because it's her birthday this week. Happy Birthday/Thanksgiving Cristyn/Carolyn/Craftycmc!
Cristyn West is the pen name for the incomparable Carolyn McCray, an amazing veterinarian-turned-writer-turned-screenwriter-turned-producer/director. In short, she's done it all. I had the unique opportunity to meeting her kinda backwards.
I encountered her first wearing her screenwriting hat. I was a part of workshopping a number of her screenplays, which I found to be incredibly well-crafted and compelling. When she produced and directed her first short film, I jumped (okay, leaped) on board as her lead. From there, I was able to start reading her novels, and finally had the chance to see her at work with animals.
You would think with all she has going on, one of those areas would suffer. Not even a little bit. Her writing is amazing, her filmmaking brilliant and her work with animals absolutely endearing (which, when you read some of her darker works, is a very good thing to have in the balance).
Okay, enough about the person, what about the book? Well,
Plain Jane
kept me up at night. I mean that in two ways. I was kept up at first because I couldn't put the #$%#$!* book down! Then I was kept up thinking about it (okay, and because I was a little bit scared, but don't tell anyone), mulling it over, walking through all the twists and realizing how seamless it all was.
Plain Jane
is a thrill ride, plain and simple. It's got compelling, three-dimensional characters that I cared about, a plot that felt as driving as a jackhammer and dialogue sharp enough that I found myself wanting to steal for my own uses. It's alternately chilling and steamy (great recipe for a case of the literary sniffles, by the way...where the only cure is another Cristyn West book which better be coming soon, dammit!), with such great sexual tension between Kent and Nicole that at times I felt like I shouldn't be watching/reading.
As an actor, here's the kicker for me. If I not only can see it as a film, but want to have a leading role in it, it's a home run. This was a grand slam. I would be willing to be an extra in this sucker! And then pay premium theatre prices (with popcorn and drink) to go see it.
And if all this isn't enough for you, the e-book costs $2.99 on
Smashwords
. Three bucks! Are you kidding me? A good hamburger costs more than that. So, I guess what I'm saying is, get it now. Read it. You won't be sorry. And if somehow you are, come and talk to me on Twitter--
@actingnodrama
. We'll have a fun little conversation about it. :)
Ben Hopkin started his career in entertainment at the age of 10, where he performed alongside his father in the opera Gianni Schicchi. Since then he has gone on to perform in theatre, television and film, often working with Tony and Emmy award-winning actors and directors. Ben is a graduate of the renowned Old Globe Theatre MFA program and was Director of the Acting for Film Undergraduate and MFA programs at the New York Film Academy at Universal Studios for five years. As a director and producer, Ben has won awards for his work in television and his films have screened at festivals around the country. Currently Ben is co-founder of Off Our Meds MultiMedia, which has a full slate of commercial, television and film projects. He also teaches online acting and dialect classes and workshops (go
here
to find out more and/or sign up) and you can find him on
Twitter
. He's also got a radio show that you can find
here
.